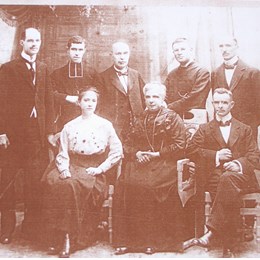 A bit of cookie-making history
Our story begins with Amandus Deman (°1850), who was looking to learn some French. So, he took up classes with a certain Master Vervarcke. Soon enough, however, Amandus showed more interest in the master's comely daughter, Stefanie (°1861), than he did in the French language.
Amandus and Stefanie decided to start up a bakery business together in the Braambergstraat, where they baked specialty cookies using their own spice mixtures. It was not long before their bakery became known as the 'pharmacy baker', because of the medicinal powers attributed to their cookies and biscuits.
Familywise, things were moving along briskly, too. Six sons and one daughter later, the large family was forced to move to more spacious premises in the Breidelstraat in 1910.
When father Amandus died in 1933, Maria Deman took over the bakery business with her older brother Maurice. When, at the age of 40, Maurice decided to follow his brothers' example by entering the monastery, Maria suddenly had to look after the business all by herself. Fortunately, she could count on Charles Van Steenkiste, the loyal journeyman who would stand by her side for 45 years.
Maria, who had married Aimé Bekemans in 1929, even managed to keep the bakery afloat during the war years. "De kalanten stoenden in de reke toe ant 't heilig bloed", Maria would passionately tell her grandchildren many years later."The customers were queueing up all the way to the Chapel of the Holy Blood." The success was owed in large part to Deman's famous honey cakes, which had been very popular during the war because of their high nutritional value.
Maria and Aimé had a daughter in 1933, Christine. When she finished her studies, she only had one ambition: become a pianist. She took up classes with Mr. De Meester, and promptly ended up – just like her grandfather many years before – in the arms of her teacher's offspring. When Joseph De Meester - the son - accompanied her on the flute during her exam, they were both smitten, as the story goes. Flemish has a wonderfully appropriate idiom for 'love at first sight', by the way: koekenbak, literally ... cookie baking.
It wasn't all a bed of roses, though, as the bakery was ailing at that time. A direct consequence of Aimé's other great passion: horse racing.
There was nothing left to do but sell the house in the Breidelstraat. Subsequently, Christine and Joseph moved into premises in the Vuldersstraat, where the bakery is still based to this day.
The business was restored to its full former glory on the new site. Regular customers came in daily to purchase their supply of tasty cookies, and many prominent public figures – including Winston Churchill and Queen Fabiola – found their way to the doorstep of Deman's bakery. The thank you letters of these two illustrious people are particularly cherished items, kept in the family archive.
Christine and Joseph were blessed with a happy family life, as well. They had three children together: Luc, Monique and Anne.
After her training at bakery school 'Ter Groene Poorte', Anne entered the family business, ready to take it to unprecedented heights at the side of her father. Easier said than done, in a new millennium with much stricter environmental and hygiene legislation. To meet the new standards, the old building required a lot of renovation work.
Anne is a woman who knows how to get things done, both on a business and personal level. She had three wonderful daughters: Els, Stefanie and Tine. As befits children, the two eldest ignored their parents' well-intentioned advice and, after finishing their training, enthusiastically entered the family business.
After a while, Els decided to call it a day, answering to the call of another challenge with her partner. Stefanie, however, stayed on, slowly but surely becoming one of the driving forces behind the cookie bakery.
Today, mother and daughter work together harmoniously every day, always looking for the perfect balance between innovation and tradition, in a bid to keep spoiling their customers with the most delicious biscuits in the land, now and in the future. And, who knows, maybe a sixth generation is in the works, as the lively squeals and squawks of Stefanie's darling daughter Angie have started to breathe new life into the brew ... erm, bakery.
Our story is to be continued, obviously, with all the tender love and care in the world!